Dr Diana Londono
Board Certified In Neurology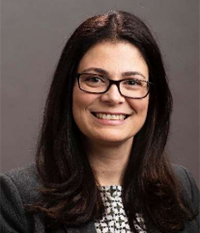 Dr Diana Londono
Subspecialty fellowship training in Multiple Sclerosis and Neuroimmunology
Dr. Londono is certified by The American Board of Psychiatry and Neurology and completed neurology residency at the University of Illinois College of Medicine at Peoria, as well as fellowship in Multiple Sclerosis at Mayo Clinic at Rochester, Minnesota.

Dr. Londono currently serves as a neurologist at Desert Neurology and Sleep. Dr Londono provides care for patients with a broad range of neurological disorders such headaches, epilepsy, stroke, movement disorders and peripheral nerve disorders. Dr. Londono's special interest includes autoimmune neurological conditions (Multiple Sclerosis, Neuromyelitis optica, MOG associated disorder, Sarcoidosis, Encephalitis) and neurodegenerative disorders including Alzheimer's disease and other dementias.

Dr Londono is committed to provide exceptional service that meets the unique needs of our patients; by delivering the best clinical care from initial diagnosis to on-going disease management. Dr Londono is highly fluent in Spanish which can provide extra support to your Spanish-speaking patients affected by neurological disorders.

Dr. Londono completed her undergraduate and graduate medical education and medical internship at Universidad Pontificia Bolivariana in Medellín, Colombia. Soon after Dr. Londono immigrated to the United States, Dr. Londono completed postdoctoral training in neuroimmunology first at the Department of Neurology and Neurosciences at Rutgers-New Jersey Medical School and later at the Center for Immunology and Inflammatory Diseases at Massachusetts General Hospital (MGH) in Boston.

Post-fellowship, Dr. Londono joined the neurology residency program at the University of Illinois College of Medicine at Peoria where Dr. Londono served as chief resident and clinical instructor. After completing residency, Dr. Londono completed subspecialty training on Multiple Sclerosis at Mayo Clinic in Rochester.

After completing her training, Dr. Londono accepted a position as Clinical Assistant professor at the University of Illinois College of Medicine at Peoria and worked at OSF Saint Francis Medical Center at Peoria IL as Multiple Sclerosis/Neuroimminologist/Hospitalist providing care of patients with multiple sclerosis, MS related disorder and patients with acute neurology disorders. During her time at University of Illinois College of Medicine at Peoria, Dr. Londono was the principal investigator on several clinical trials, trained APN, medical students and residents.

Dr. Londono's research career has been very productive, as Dr. Londono had several publications in peerreviewed journals. Dr. Londono has also participated in a number of oral and poster presentations at both national and international conferences. Dr. Londono would like to continue participating in clinical trials focused on people living with multiple sclerosis and other neurodegenerative disorders.